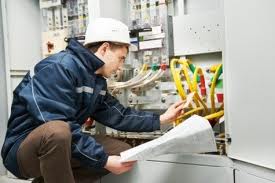 Under Irish legislation PAT testing also known as portable appliance testing must be completed by businesses and landlords. It is now common place for insurance companies to ask for PAT testing records before providing cover. In a recent study conducted by the H.S.A. 25% of all electrical accidents where caused by faulty portable appliances.
Here are the 5 main reasons PAT testing must be carried out.
To comply with Irish legislation (S.I No.299 of 2007).
To prove compliance to insurance companies.
To protect yourself or your company from potential court action.
For the safety of your employees.
For the safety of visitors at your business or your tenants.
At Dublin Electricians, we provide a complete commercial and domestic PAT testing service. Our service covers all voltages from 115 volts up to 400 volts. On larger projects, we would arrange to visit your property and conduct a survey of all the portable appliances that require testing. Portable appliances are classified as a piece of electrical equipment that is not part of a fixed installation but is, or meant to be connected to a fixed installation via a flexible cable, plug and socket. This includes toasters, kettles , microwaves, fridges, freezers and a large amount of electrical tools to name but a few.
On completion of the survey and your instruction to commence we will meet you again to agree the testing plan as per your requirements. We will then arrange a time with you that will minimize any interruptions to your business and proceed. On completion and once in receipt of payment you will be provided with a full report with a list of the test results, the test date, pass/fail status and your certification of compliance. All records must be kept for 5 years minimum as the H.S.A. conduct random checks. All appliances that have been checked will have a waterproof, traceable bar code tag placed on the cable/appliance for inspection purposes. Our PAT testing services are regularly used by all types of clients including government agencies, landlords, SME's and charity organisations and all paperwork and certification provided fully complies with the Regulation 81 (Portable Equipment) of S.I. No. 299 of 2007 from the Health & Safety in the workplace Act 2005 - 2007.
Our qualified team of accredited and fully trained PAT testers  can carry out your PAT testing efficiently and with minimum disruption to your daily routine. For more information and a free quote, call your local team at Dublin electricians on 01-6874854.