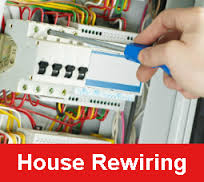 Do you need your house rewiring or possibly your business premises. As the years have passed and technology has progressed your home or business has become more reliant on electricity. This being the case if the wiring is old or not up to modern day standards it may be a safety matter that needs urgent attention. A rewiring project may be quite a big job but if it is necessary for your health, safety and better energy efficiency you can count on Dublin electricians to help.
If you are intending to sell your house a standard inspection will tell you whether your your electric wiring system is adequate or is defective. If unfortunately the wiring in your house is not up to standard you will find that no mortgage provider will be prepared to lend money on what they see as a "risky house".
Professional house rewiring at low costs.
At Dublin electricians. we have completed hundred's of house and business rewiring projects. We can complete the work quickly and efficiently whilst ensuring the minimum fuss to your daily routine where at all possible and at a price that won't break the bank.
All of our work comes with our standard 1 year parts and labor guarantee. Our staff are friendly, reliable and hard working and continually complete their projects on time and to the highest standards.
If you would like more information on house rewiring and a free no obligation estimate then just call one of our senior master electricians on 01-6874854.